One of the most popular battle games in The Arena bar is electronic darts. There's a bristle dartboard and steel tip darts, but that is where the similarities between the traditional and electronic versions of the game ends. If you think it's just a case of throwing some darts at a board, you are so wrong. So, join us on the oche (that's the name of the throw line in traditional darts) and let's do a deep dive into what exactly electronic darts is.
Games, games and more games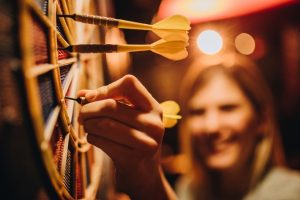 You can use the electronic dartboard in the traditional way – a quick game of round the clock, or maybe 501, anyone? But there's no chalk or mind maths needed, as the scores will be automatically calculated and digitally displayed, like they are when you play ten pin bowling.
However, with e-Darts there is so much more that takes a game of arrows to the next level. Fancy a game of cricket on a dartboard? You can, as well as get competitive with multiple other game options, such as Battleships, Snakes and Ladders, Dart Bingo – we could keep going.
Really easy to play
If you've never played darts before, don't worry, the screen above the electronic dartboard will guide you through setting up a game, give you prompts about how to play specific games, and announce and display scores. You simply need to be able to throw a sharp pointed object at a board to be able to play – your aim will get better as the game progresses.
It's certainly a high-energy game that we guarantee will have you hooked.
e-darts at The Arena
How many people can play?
Between 1 and 6 people
How long is a game?
It depends how good you are, and the game – you pay for one hour of use!
Is there an age range?
Over 18s only
How much does it cost?
£15 per one hour game
As well as e-Darts, The Arena  bar features table tennis, table football and American Pool, and you can add in a couple of beers or cocktails and a few slices of pizza. With The Arena bar, karting, bowling, karaoke and an arcade filled with some of your favourite games all in one venue, we really are the place for a great 'competitive' night out with friends.
You can just turn up and play electronic darts, but we do get busy, so it's best to book in advance to ensure you and your friends can do battle. Head over to the Book Now   page to reserve a game.