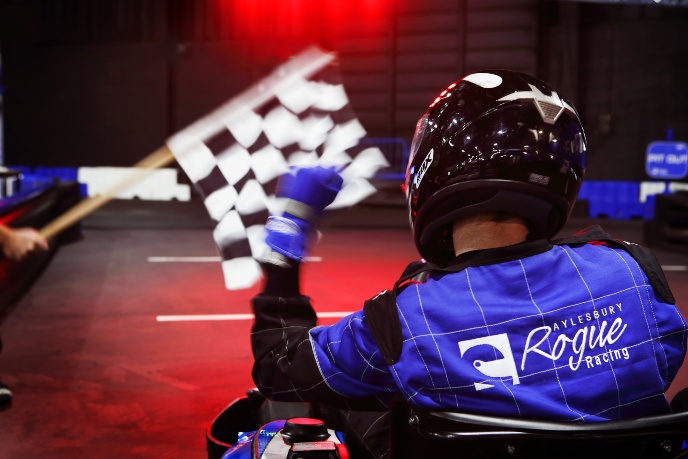 We recently spoke to our expert indoor go karting instructors to get their top 10 tips on how some minor changes can really help to improve lap times.
Tip 1 – Make sure you're sat properly
Are you sitting comfortably? If you're comfortable in the kart, then you are likely to be sat properly. You should be able to reach the pedals with your legs slightly bent, and hold the steering wheel without having to lean forward.
Tip 2 – Hold the racing line
All indoor go karting tracks have a perfect racing line, which is the ideal route you should take to lay down a quick lap time. Try to use all the space on the track to travel in as straight a line as possible. When going round bends, stay wide when entering, close to the apex when rounding the corner, then use the whole track when exiting.

Tip 3 – Grip it like a clock
If you're already a car driver, then you know the 10 to 2 rule about gripping the steering wheel. But if you're not, then holding the wheel symmetrically allows you to have more control. Think of a clock face and hold at either 10 and 2, 9 and 3, or 8 and 4.
Tip 4 – Slow down
Knowing when to slow your speed will actually help you improve your lap times. The more experience you have of an indoor go karting track, the more you will get to know the layout and learn when to hit the brake. This will ensure you don't lose control of the kart and end up off the track. Start to brake as you enter a bend, then hit the acceleration pedal as you come out of it.
Tip 5 – Ignore others on the track
Stay focused on how you are driving instead of looking at what other people on the track are doing.
Tip 6 – No contact means quicker laps
The slightest touch of another kart or clip of a barrier will slow you down and affect your lap time. If you want to get faster, you will need a clean drive.
Tip 7 – Look at the leader's line
I know we said to ignore others on the track, but if you aren't out in front, then the leader of the race probably has a better line than you. Follow them, then hopefully you'll get a chance to overtake.

Tip 8 – Brake when you're straight
The kart's tyres can lose traction if you start braking when entering a corner, which will cause you to spin out. Start braking when you're still straight so you stay in control.
Tip 9 – Expect small improvements
You aren't going to reduce your lap time by tens of seconds after just one session focusing on improvement. A second here and a second there will soon add up.
Tip 10 – Enjoy yourself
Most importantly, remember to have fun! When you're comfortable and relaxed, your lap times will naturally improve.
We have some expert instructors at our indoor karting track who are happy to pass on advice that will help you improve your lap times. We look forward to seeing you on the track!